It's camp week at my house, which means we're off our schedule & I'm elbows deep in some home improvement projects while I'm down a few kids! I wanted to squeeze out a quick post for y'all to let you know I'm still thinking about you ;)
I'm always looking for new reading material for myself & the fam so I thought I'd return the favor & share what we're currently reading with you! So without further ado...
What We're Reading, June Edition
Me
I currently have my nose buried in this book:
This is a freebie from my father, from whom I learned all of my book-wormy-ness. It's international spy-thriller, quick & easy to read & it totally sucks you in. I give it a B+.
Will
The Hubs isn't a big reader but he'll tune in when something is worthwhile, like The Hunger Games. Didn't see him for a week when he read through that! Got a tiny glimpse of what it must be like to be married to me- kinda felt sorry for him... kind of...
We gave him this book for Father's Day & it seems to be a hit:
You know it's funny when he reads it aloud to me. Any book with a side hug on the front cover is worth opening, in my opinion :) I think he'd give it an A but he's not here for me to ask.
Owen
This travels in the car with us & generally keeps the peace. Thumbs up from me!
He gives it a B. That's all the info I can get from him while he plays Wii. You'll have to check that one out yourself.
Jack
My darling child has blessed us with the plethora of potty jokes from this book: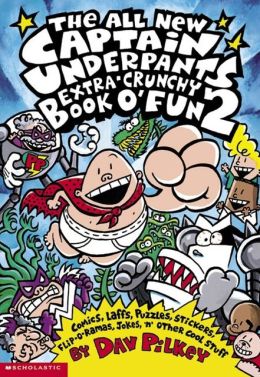 It's exactly what it looks like. I'm sure he'd give it an A+ but I'm not asking.
Quinn
Quinn loves Bad Kitty, but I think he loves Uncle Murray more. This is the latest:
These are pretty funny to read aloud & a fairly quick read. He gives it an A but then again, he gives everything an A.
Miller
The baby likes this one:
It's pretty sweet to listen to him "read" it to himself. These books always reminded me of a tamer Garbage Pail Kids* so I stayed away from them at first but then I discovered that kids LOVE THEM! Mills & I give this one an A+.
Enjoy!
Tune in tomorrow for more Fine Motor Friday!
*There's a blast from the past! Did you know they still make them? We got them for our boys & they were totally grossed out. Kids are soft these days.
I'd loooooooveeeee a good book recommendation. Share with me what you're reading!